Samsung's Galaxy S II Preliminary Performance
| | |
| --- | --- |
| ㆍ작성자 | 들풀 |
| ㆍ작성일 | 2011-02-15 (화) 17:28 |

ㆍ추천: 0 ㆍ조회: 2993
ㆍIP: 121.xxx.76


There's a lot of speculation about the SoC used in Samsung's Galaxy S II,
thankfully through process of elimination and some snooping around we've been able to figure it out.
We know for sure it's not NVIDIA's Tegra 2 or Qualcomm. That leaves Samsung or TI.
A quick look at GLBenchmark2's output gives us the GPU string: ARM Mali 400.
TI's OMAP 4 uses a PowerVR SGX, so it's out of the running. This leaves one and only SoC:
Samsung's own Exynos 4210 (formerly Orion).
Exynos has two ARM Cortex A9 cores running at 1GHz. As a result, general performance
of the Galaxy S II is competitive with phones based on NVIDIA's Tegra 2.
The Galaxy S II runs Android 2.3.1 compared to 2.2.1 used by the Tegra 2 phones,
and as a result has better Javascript performance which we see in some of our benchmarks.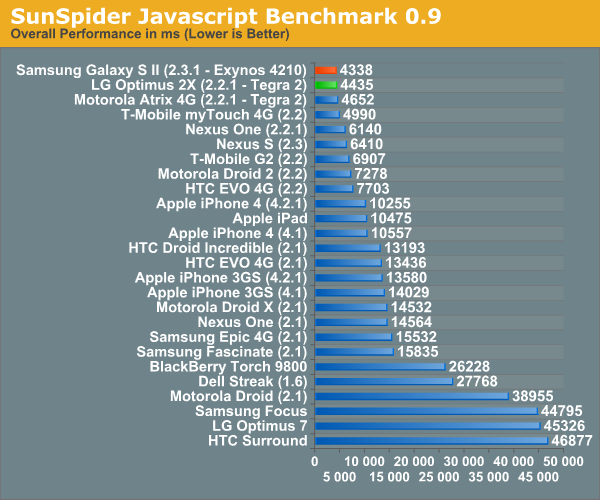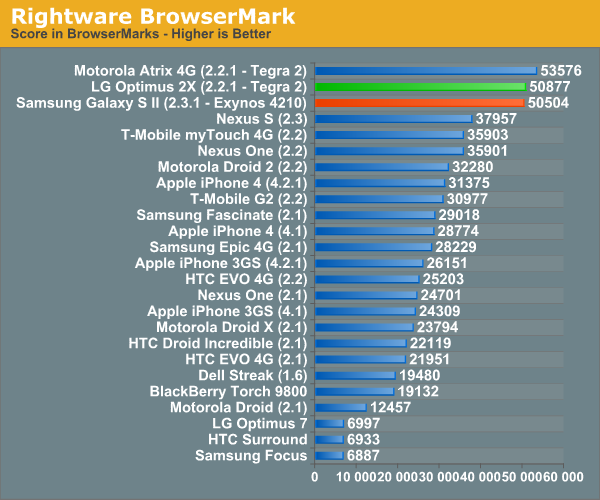 Physical Comparison

Apple iPhone 4
Samsung Galaxy
S Fascinate
LG Optimus 2X
Motorola Atrix 4G
Samsung Galaxy S II
Height
115.2 mm
(4.5")
106.17 mm
(4.18")
123.9 mm
(4.87")
117.8mm
125.3mm
Width
58.6 mm
(2.31")
63.5 mm
(2.5")
63.2 mm
(2.48")
63.5mm
66.1mm
Depth
9.3 mm ( 0.37")
9.91 mm (0.39")
10.9 mm (0.43")
10.95mm
8.48mm
Weight
137 g (4.8 oz)
127 grams
(4.5 oz)
139.0 grams
(4.90 oz)
135.0 grams
116 grams
CPU
Apple A4 @
~800MHz
1 GHz Samsung
Hummingbird
NVIDIA Tegra 2
Dual-Core
Cortex-A9
(AP20H) @ 1 GHz
NVIDIA Tegra 2
Dual-Core
Cortex-A9 (AP20H)
@ 1 GHz
Samsung Exynos
4210 Dual-Core
Cortex A9 @ 1GHz
GPU
PowerVR SGX 535
PowerVR SGX
540
ULV GeForce @
100-300 MHz
ULV GeForce @
100-300 MHz
ARM Mali-400 MP
RAM
512MB LPDDR1 (?)
512 MB LPDDR1
512 MB LPDDR2
@ 600 MHz
data rate
1024 MB LPDDR2
@ 600 MHz
data rate
1GB
NAND
16GB or 32GB
integrated
2 GB, 16 GB
microSD
(Class 2)
8 GB integrated
(5.51 GB internal SD,
1.12 phone storage),
up to 32 microSD
16 GB integrated,
up to 32 microSD
16 GB integrated,
up to 32 microSD
Camera
5MP with LED
Flash + Front
Facing Camera
5 MP with auto
focus
and LED flash
8 MP with
autofocus,
LED flash,
1080p24
video recording,
1.3 MP front facing
5 MP with
autofocus,
LED flash,
720p video
recording,
VGA MP front
facing
8 MP with
autofocus,
LED flash,
1080p video
recording,
2MP front facing
Screen
3.5" 640 x 960
LED backlit LCD
4" Super
AMOLED
800 x 480
4" IPS LCD
800 x 480
4" PenTile LCD
960 x 540
4.3" Super
AMOLED
Plus 800x480
The GPU accelerated UI used in Android 2.3.1 makes the Galaxy S II feel a bit faster than the Tegra 2 phones,
however that's not always the case. While web page loading feels comparable between the Atrix 4G
and the Samsung Galaxy S II, Tegra 2 appears to handle flash a bit better than Samsung's Exynos.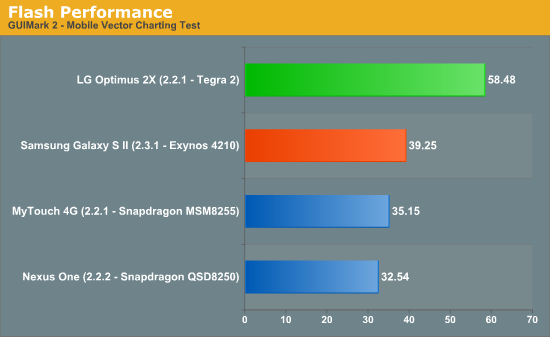 This is a pretty significant difference in our Flash benchmark, however it does translate into
a somewhat less smooth experience when scrolling around web pages with Flash.
We managed to run GLBenchmark2 on the Samsung Galaxy S II and compared it to our recently
reviewed/previewed Tegra 2 smartphones.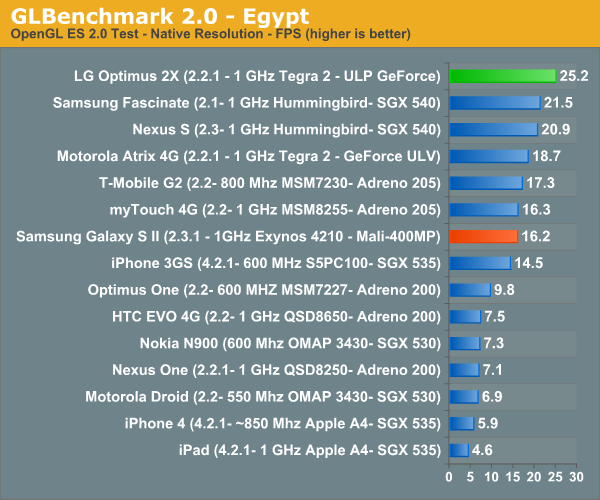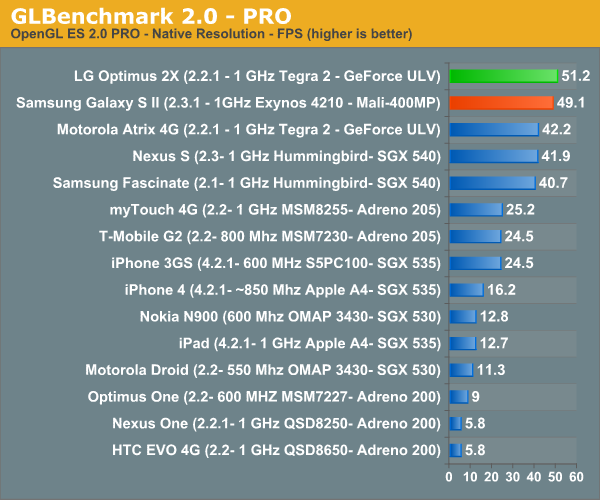 The Mali-400 MP performs pretty well in GLBenchmark2, however it's still a bit behind NVIDIA's Tegra 2.
Note that the Galaxy S II runs at 800 x 480 so its direct competitor in this case would be the Optimus 2X.
These results don't tell us a lot about the GPU's performance other than the combination of hardware and
drivers isn't quite up to par with what NVIDIA has today - at least under GLBenchmark2.
There's so much that can be done with driver optimizations that it's difficult to draw any meaningful conclusions yet.
※ 회원등급
레벨 0
이상 읽기가 가능한 게시판입니다.
| | |
| --- | --- |
| | |
N

분류
제목
글쓴이
작성일
조회
132

GMS 포함된 젤리빈 안드로이드 에물레이터

[2]

gana쪼꼬렛

2013-03-30
453
131

Jelly Bean BSP Porting Guide

[4]
슬로우부트
2012-10-21
3784
130

$129 ARM Cortex-A9 쿼드코드 안드로이드 개발 보드..

[2]+3

다이나믹링크

2012-07-08
3649
129

젤리빈기반의 레퍼런스 태블릿 (단지, 199$) - "Nexus 7"..

[2]+1
인베인
2012-06-29
2730
128

Android Device Driver Collage ...

[4]
슬로우부트
2012-02-25
3177
127

Re..Android Device Driver Collage2

[2]
슬로우부트
2012-08-04
1875
126

Android ICS porting guide 문서 정리

[7]+1
슬로우부트
2012-01-21
6797
125

안드로이드용 결제시스템 NFC스택 오픈

인베인
2012-01-18
2128
124

Android Power Management 관련 내용 정리

[5]+2
슬로우부트
2011-12-27
5272
123

Re..Android Power Management 관련 보강 ...

[7]+1
슬로우부트
2012-12-25
1298
122

Android Device Driver 정리 문서 및 Stagefright 개념 문서 ..

[5]
슬로우부트
2011-11-19
6203
121

Re.. Android Device Driver 문서 보강 !

[2]
슬로우부트
2011-11-28
2247
120

Re..Android Device Driver 문서 보강[마지막]..

[3]
슬로우부트
2011-12-05
3736
119

Re..Android Kernel Hacks2 문서

[2]
슬로우부트
2013-05-13
141
118

Android Debugging 기법 정리

[5]
슬로우부트
2011-11-12
4118
117

Re..Android Debugging 기법 정리 문서 보강...

[6]
슬로우부트
2011-12-05
3758